Engaging Leaders 5,000 Miles Away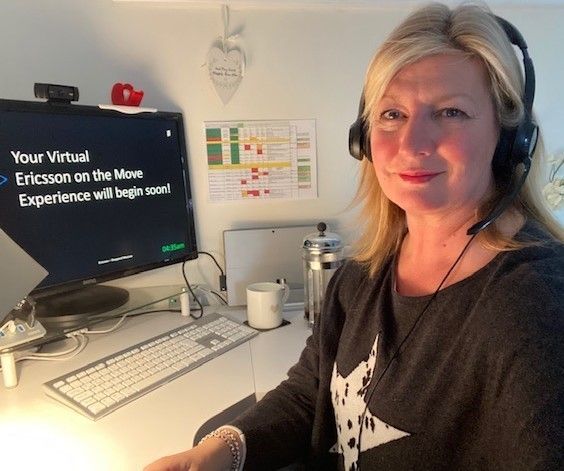 Getting up at 3:45 am is not, sadly, something new. Indeed many of us who travel frequently know we are often required to rise early in order to get flights to far-flung places. And we are still equipped and ready to deliver. But getting up to quietly gather myself en-route to a client, or getting up in the same time zone as others to engage with folks who are physically present in the room with me is very different to what I had to do on this particular day.
Sheppard Moscow is honoured to be partnering with Ericsson in their exciting and ambitious leadership culture transformation work Ericsson on the Move. As part of this we have been running a series of high impact Appreciative Inquiry workshops for 100 leaders in multiple locations around the world. We have run them in Dallas, Delhi, Beijing and mainland Europe. They have all been very engaging, brought people together to connect as both a large group and also in small intimate groupings to share stories and inspire each other. We have been focusing on amplifying positive practices across 5 critical areas and are really seeing momentum build as people commit to experimenting with doing more of these things, in more places, with more people.
For obvious reasons, the Covid 19 outbreak has meant that we have had to pause the delivery of these large group face to face events in China. Ericsson views the safety and well-being of its people as paramount and central to all decisions, so this was inevitable. And so we have had to be creative and think about others ways in which we can virtually bring these leaders together for meaningful conversation. So today we ran our first virtual large group participation event - our first Ericsson on the Move virtual workshop.
Of course working virtually has been a fact of life for many years for most of us. Telephone calls are becoming a thing of the past as almost all of our meetings are now video-based. We have group meetings and use the various tech platforms to share documents, brainstorm together and then even move into smaller sub group breakouts. All assisted by brilliant technology. Webinars and webcasts are part of our organisational landscape.
But can you really ignite human behavioural change from the other side of the world?
As practitioners in Sheppard Moscow we work with 'whole self' and real, human contact is our stock in trade. So much of what we do is about presence and responding to the energy in the room. Noticing small clues in body language, sensing and feeling the climate and making micro-adjustments to what we're doing live in the moment in order to stay in contact.
So on that first morning of the virtual workshop, four intrepid colleagues and I dialled into a distant connection and sat alone at our laptops in the small hours of the morning, supported by huge flasks of coffee, facilitating groups of people into conversation. Sometimes the dialogue was with 80+ people (which is when it was hardest to feel a real connection) and sometimes it was in smaller groups of 12 or less (much, much easier). We saw into people's lives as they were work from home. Many others were wearing face masks. And still, we managed to make intimate contact pretty well….we saw brilliant people genuinely making the best of the context they're in, and being willing to participate in an experiment to connect 80+ people across a region. Unbelievably, identifying and appreciating many positive practices that have helped make Ericsson the organisation it is today really seemed to inspire confidence and positive energy.
So as I reflect on this I realise I have learned something. That people, when they want to connect and are invested, can pull anything off.
We had great participation given the limitations of the technology. I am so grateful to the teams of people working behind the scenes, late into the night and over the weekend to design this, and make this happen technologically with hardly any notice. I am grateful to the participants who gave of themselves so freely to participate fully, despite being (I imagine) sick of looking into a laptop camera over the last few weeks. I am also so proud of my colleagues for working so hard to create intimacy, real human authentic connection and contact this morning.
And, despite being unexpected, I think the Covid 19 virus, combined with our increasing desire to be more carbon neutral, will be a catalyst for further change in ways of working. It points to broadening the scope of virtual working even further.