High-Performing Senior Teams
Team development is a prime driver for business success; this is especially relevant to the Senior Leadership Team (SLT). What sets the SLT apart from others is that their real value lies in the way they set the tone for the rest of the organisation - intentionally or unintentionally. So if a senior team is being watched, what are they portraying?
Great leadership teams recognize they have a cascading effect throughout their teams, they understand that employees and stakeholders watch them. The way senior leaders connect with others and how effective and accountable they are as a cohesive unit is a massive performance enhancing lever to pull. The SLT and how it operates together can reinforce the behaviours and culture that will help their business deliver its goals. They serve as 'force multipliers' for their organisations. And importantly they know they set the tone for how their organisations operate and behave.
Recent research by McKinsey revealed that over 75% of senior leaders think the teams they are part of are ineffective, as a team. This is the case despite members individually being technically very capable, leaders who are often judged by others to be excellent within their discipline. The same research also flags that 95% of executives believe that building effective senior leadership team(s) would yield significant organisational results. So why are senior teams less effective than they could, or indeed should be, given the talents and capabilities of the individuals in these teams?
A real team is a small number of people with complementary skills who are committed to a common purpose, performance goals, and an approach for which they hold themselves mutually accountable. – Katzenbach and Smith.
There are four, (not so secret) ingredients in creating a real team: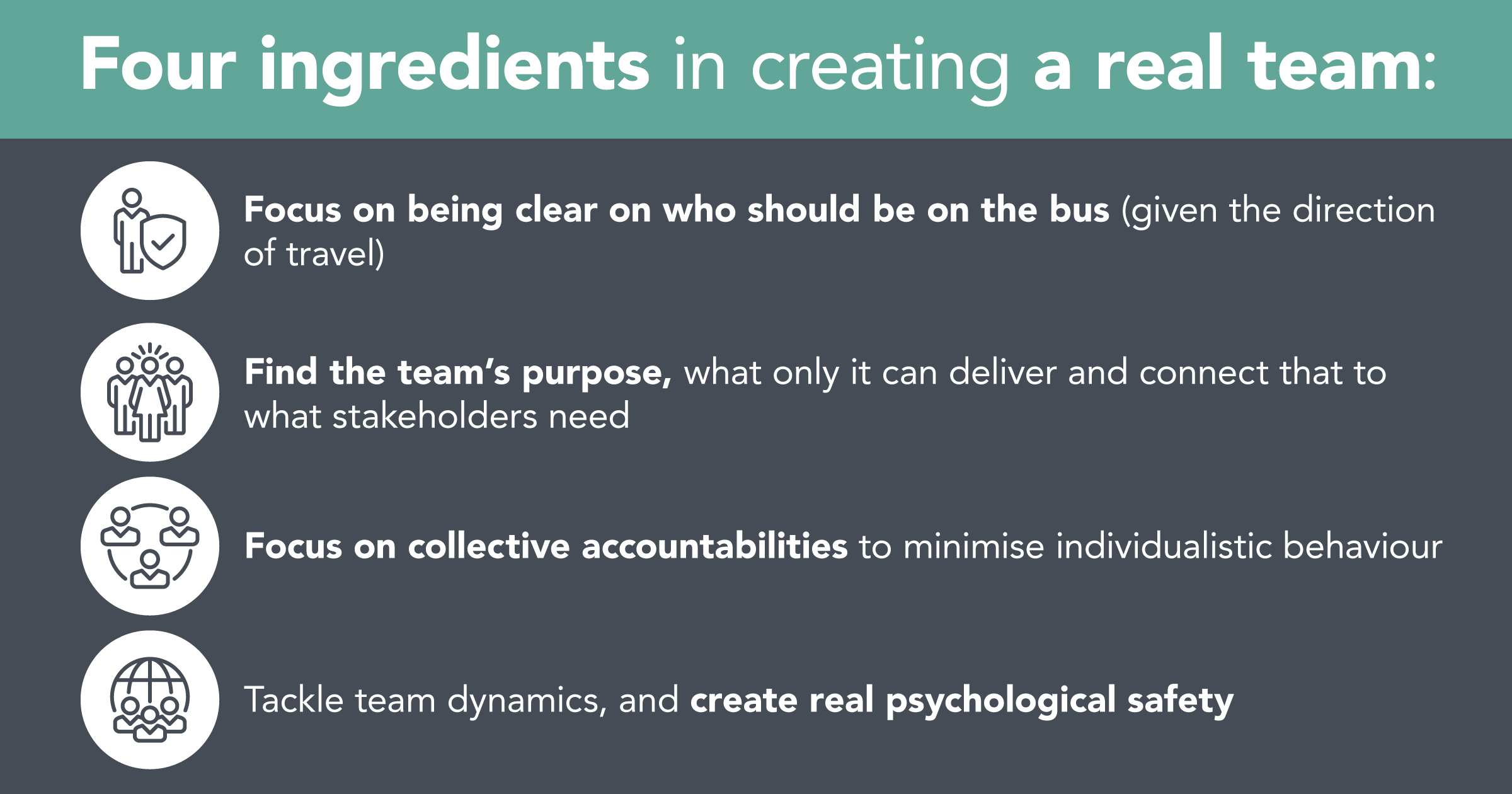 Get the right people on the bus, and, if possible the wrong ones off it. Membership of the senior leadership team is the leader's responsibility; it is one of the most important elements in shaping a team's performance.
Find the team's purpose - what only it can do collectively. The team needs to ask itself the hard question - why does this group of people exist - as a team? What are we being asked to deliver by our stakeholders, clients, and staff? As a leader, and as a team, be ruthless about focusing on this purpose and the associated activities that support the execution of it. A real team needs to deeply, and collectively, commit to this purpose. It cannot live in name only. The team's purpose should not only provide a sense of direction to its members, but also justify and clarify the kind of extra collective and emotional efforts required for the team to achieve its real performance potential. Make sure the top team does just the work only it can do.
Collective accountabilities begin to develop the 'super glue' of collective responsibility. If the team is committed to each other, and to their main goal, and fully respect each other, they will challenge each other and support each other to whatever extent is needed. A real team focuses on collective results, and collective rewards which helps minimise individualistic behaviour.
Tackle team dynamics, at all costs create psychological safety to challenge, debate and support each other. Team dynamics underpin all the above, with strong team dynamics, collective accountability becomes possible, without it you have a group simply going through the motions.
We at Sheppard Moscow are fundamentally committed to team development, and we believe in the investment of top-level teams as they will fundamentally set the course and direction for their organisation or function. For teams of high individual capability, yet who cannot seem to pull together or be a collective force or power, psychological safety needs to be developed.
Like all disciplines, success comes with following some key principles consistently, and practice. Building a team takes dedicated time and constant practice. Groups, even high performing ones full of talented capable people, do not become teams just because we invite or tell them to. It takes courage, emotional energy, and commitment to begin the journey; untapped potential lies waiting to be galvanised.
What is the biggest challenges are your senior teams are facing?