Leading hybrid working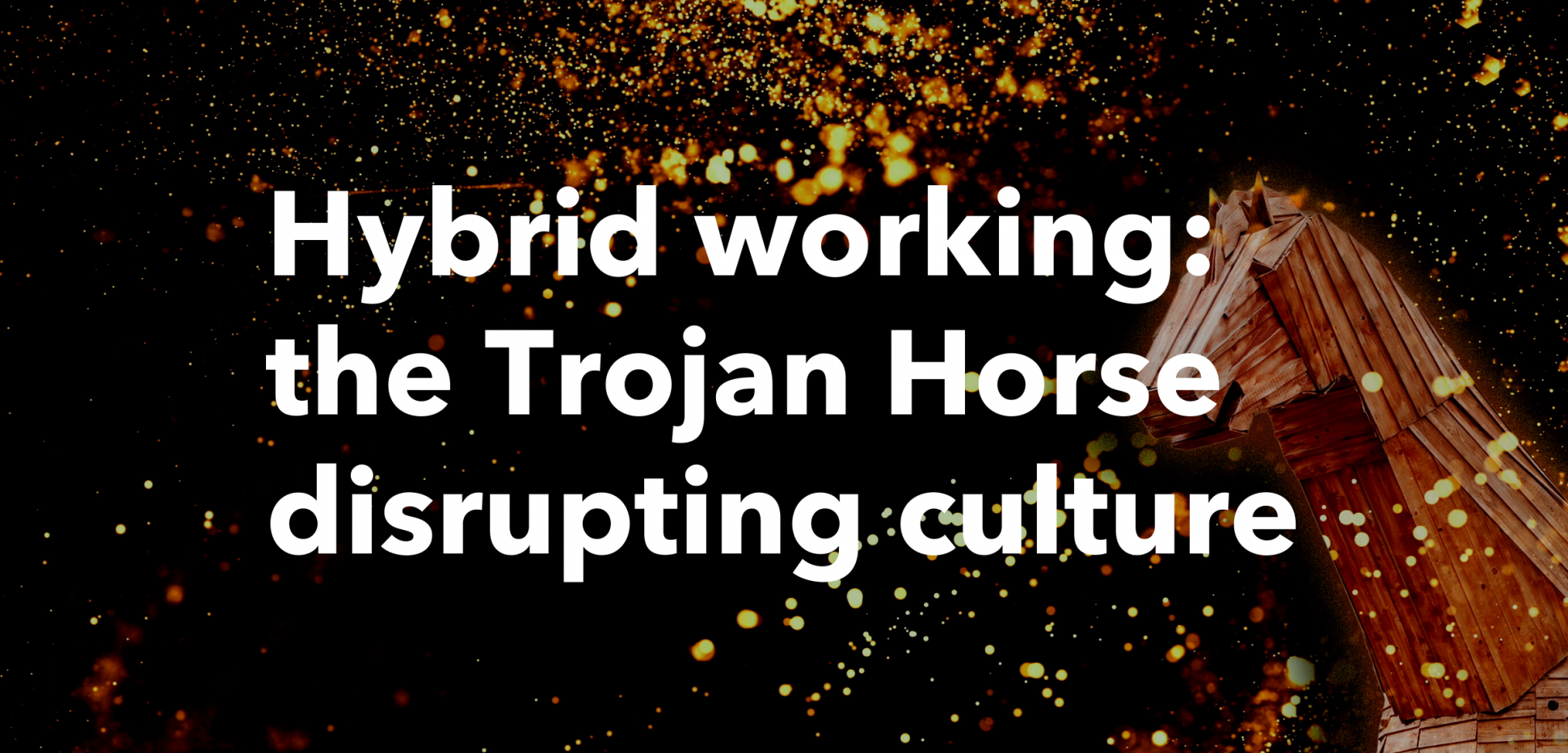 The focus on hybrid working has largely revolved around logistics – days in and days away from the office – and then also mechanics – how teams work in a hybrid setting.
Yet there's something more fundamental to consider: what impact has the pandemic had on the culture of organisations? Has it exposed flaws in the culture that were not apparent before? And are leaders and their teams equipped and ready for the complexities and contrasts of hybrid working?
For some organisations, there is no doubt that Covid has acted like a Trojan Horse – disrupting the cultural norms or laying bare systemic issues that were easier to gloss over in times gone by.
Perhaps the biggest change is a shift in the power base. In a recent FT article entitled 'HR executives tread carefully into hybrid world of work', Aditi Madhook-Naarden, VP of HR for Growth Markets at Tate & Lyle, shared her view on this:
"In the past, many organisations did have a flexible or homeworking policy but the assumption was that most people would be in the office, and the balance of power was very much with the employer. Today, the power rests more with employees. Even organisations who don't want to change are being forced to change."
This power shift is just one of the new realities facing leaders and their teams; and it's only now that organisations and leaders are understanding how they must fundamentally adapt to make hybrid working effective and sustainable, such as a practical understanding of what it entails to manage people, equipping leaders with the tools and approaches to lead hybrid teams, and how to promote deeper teamworking as well as help teams and team leaders to build resilience, ensure inclusion and create psychological safety.
So how do you know whether your hybrid working can be effective, agile and sustainable?
Here are seven questions that we believe are fundamental to understanding what the dynamics of your culture are within the context of hybrid working:
Have you investigated and do you understand those factors that have enabled exceptional performance in your teams over the last 18 months? Have you captured them and can you reproduce them in the new normal?
Are you clear what 'office work' means now? Have you distinguished where and how different aspects get done – individual contribution, effective communication, productive meetings, human connection?
Are you sure you have the socio-psychological essentials for people and teams to perform in place – inclusion and psychological safety, information flow and context, purposeful and productive work, leadership and management?
You now know your people can be relied upon to be fully productive when working remotely – but are they fully enabled and supported by their line managers? Do your people managers really know them, focus them, care for them, and inspire them?
Have your teams reset for hybrid working? Have they revisited the components of their effectiveness – direction, capabilities, work methods, relationships, contracting and reviewing?
What about the team of teams? How will you ensure your teams mutually align in the matrix now that they're all working hybrid patterns?
What else may need to shift in your collective leadership culture so as to ensure hybrid working is effective, agile and sustainable? Is there a broader opportunity here for leadership culture transformation?
If you'd like to know more about how to successfully address all or any of these questions, or you'd just like to chat about your own experiences, do get in touch, we'd love to hear from you.