The Importance of Culture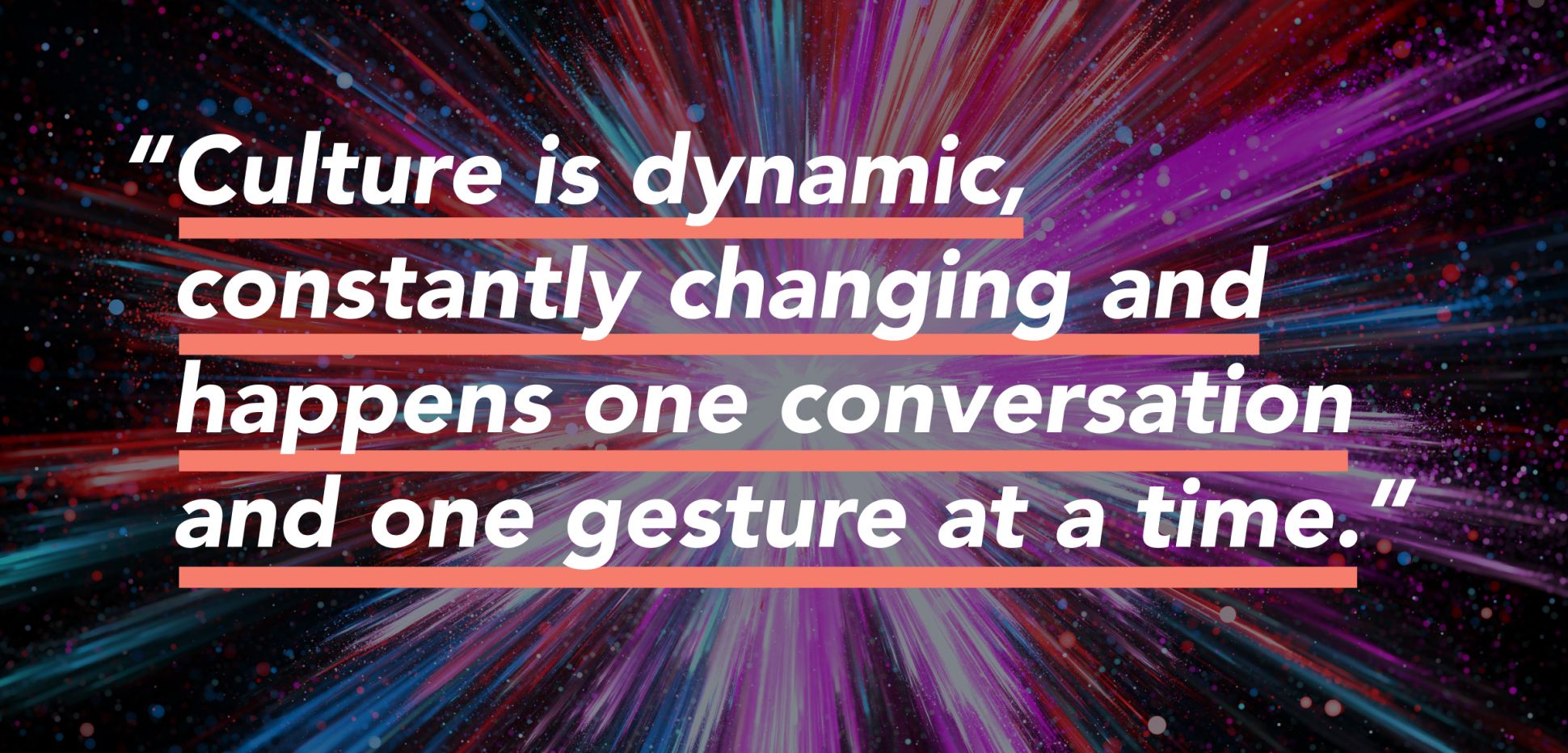 In the second part of her blog on culture, Tsheli Lujabe, examines some of the key areas of focus for culture, especially during a pandemic - such as well-being, inclusion, remote working and learning and development. If you haven't already read part I, you can read it here.
How can we encourage a culture of well-being?
In working with a variety of organisations, I have learnt that small gestures can bring about profound, albeit unpredictable shifts in culture. Early in the pandemic, our managing director encouraged me to get a second screen and camera that would go on top of my monitor. Our work environment, physical and mental health have become more important as we work virtually. Feeling encouraged to get the tools I needed, made a huge difference to my posture and virtual presence.
In a culture change programme with one of our clients, participants articulated feeling supported and cared for by their organisation that provided masks early in the pandemic; acted / responded quickly by creating a programme and website to ensure that all staff had access to the appropriate furniture (within budget) to work comfortably in their diverse home environments. Also, checking in with individuals and teams on an informal basis through calls, weekly emails from the CEO etc., enabled this feeling of care and support.
Whilst these may seem like small gestures, the critical leadership message here is we care about the well-being and safety of our people and their families, we empathise with our people and we trust you to use the resources provided to you in an honest and responsible manner. And it is certainly evidence that actions speak louder than words, as culture is more often felt, than talked about.
This has resulted in people feeling supported and wanting to show up in the best way that they can, in service of themselves, their teams, their stakeholders and their organisations.
How can we encourage a culture of being able to contribute and be seen?
Being able to express and communicate thoughts and feelings freely are important. One of the things that enables me to contribute is knowing that I can bring my whole self (ethnicity, professional background, way of thinking, experience etc.) to my work and engage with my colleagues and clients without having to disappear myself in any way. Equally, being able to listen, appreciate the different views of others and create new thoughts and ideas is crucial.
Storytelling is a way to mobilize culture. The conversations leaders invite and stories that are co-created and told are key means of shifting culture. In fact, sharing success stories, experiments and indeed what is learnt when things did not go well help us know what to amplify, do differently and let go of. We engaged with one of our clients on the topic of developing a more diverse and inclusive culture in their organisation. In addressing this, we asked the questions:
What do we appreciate about our current culture?
How would we know if we had a truly diverse and appreciative culture?
What are we afraid of in talking about difference?
This led to rich stories and examples of the similarities and differences in the organisation, at the same time, it enabled discovery of unknown experiences and perspectives and indeed behaviours that needed to change. Creating a culture where employees are encouraged to contribute and co-create stories creates rich ideas and solutions brought about by collaboration.
How can we enable a culture of relationship building when working virtually?
Part of our cultural tapestry is that relationships with our clients and each other are important, we enable learning and development by listening, caring and creating a safe environment where people are able to stretch and challenge themselves and others, share their lived experiences and knowledge, and apply / experiment with what they have learnt in their organisations.
In working with teams over the last year, one of the key elements has been in helping them pay attention to how they maintain their relationships with each other and their stakeholders by staying connected, collaborating to ensure that they are delivering for and to their stakeholders in the best and most efficient way possible, and ensuring that they are sharing knowledge, ideas and exploring possibilities to achieve the team and organisational goals. We have facilitated and enabled small group, medium sized and large group conversations, and creative thinking across multiple time zones. We, and the teams we have worked with have discovered that the ability be relational, energetic, engaged, creative and most importantly continue to listen, enable psychological safety, and build trust is key to being more versatile, responsive and enabling sustainable performance.
Can you still drive a culture of learning and development whilst working through a crisis?
During a crisis, one of the first things some organisations choose to shelve, are learning and development programmes. Whilst this could be tempting, as there is the desire to pay attention to the numbers, it is important to ensure that a culture of learning and development is not sacrificed as it is through providing the space for creativity, innovation, and experimentation that the purpose and numbers can be delivered.
Most organisations recognise the importance of providing learning and development opportunities. There was a noticeable increase in energy and morale in individuals and teams in organisations that we worked with in 2020 that continued to deliver their culture change, team coaching & development and leadership development programmes virtually over the last year.
What is the culture you want to create in your organisation in 2021 and beyond to thrive and achieve your collective purpose?
Paying attention to key aspects of culture like values, purpose, relationship building, decision making, enabling supportive space for story creation, sharing, and facilitating the creative learning space for learning and development - will create a culture that is felt.
How can we create and maintain a culture, so we remain connected to ourselves, our organisation purpose and each other to provide support and challenge?
What do you feel you're able to bring to work and what do you feel you have to tone down or ignore? What are you learning that you need to do more of, or differently and what do you need to let go of? What makes you feel more or less of yourself in your organisation?
Your answers will help indicate what parts of our organisational culture matter and help us and organisations be at our best.